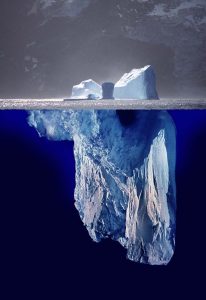 It's easy to jump to conclusions, isn't it?
If you've been working in a profession for a long time and have day-to-day experience that informs your approach to work and makes it easy to assume, be aware: you may be getting cognitively lazy.
Being cognitively lazy means you tend to assume you know the circumstances, story, challenges, obstacles or likely scenarios being described by a patient, client or colleague. You've heard it all before. So instead of listening to the entire story, you jump ahead to what is likely to be missing or needed without a lot of thought or effort in your decision-making process.
For example, imagine you're managing a department that hires younger adults. One day you're lamenting about the high turnover of these Millennials and just assume they're a restless bunch, unable to commit to anything long-term.
Arrogance assumes this is an accurate representation of all young people.
Or imagine you're a personal trainer (or dietitian, massage therapist or wellness coach) and you've worked with clients for a number of years. Their stories are beginning to sound the same: "I don't have time to exercise." "I'm too busy to maintain good nutrition." "Seven hours of sleep is a dream in itself!" "I can't spare the time for friends and hobbies."
Arrogance assumes these are the same old excuses every lazy person uses.
If you find you're confident of your conclusions without a little examination, consider taking a step back from your assumptions and consider their accuracy or usefulness.
Ask questions of others before accepting your preconceived notions. If you're wondering about the high turnover, ask those younger employees:
What have you learned about your direct reports in the last two weeks?
What are you working on?
How are you challenged right now?
What do you aspire to next in your work or career?
How have you attempted to resolve issues?
Who have you reached out to for help?
Ask questions of yourself.
What leadership insights have I applied to my team?
What am I doing to inspire them?
How might I be contributing to the lack of clarity, support and results?
What do my clients or direct reports need from me?
Do I understand how others have framed the issue in their own mind?
If you aren't continuing to learn about employees and your own leadership approach, you are being cognitively lazy.
Questioning yourself and others encourages learning the whole story and exposes what we're creating in our minds that cause unwanted behaviors. It also helps us leave assumptions, arrogance and a fixer-mentality at the door.
Related Links
Part 1: The arrogance of fixing people
Part 2: When your desire to help gets in the way
Part 3: Using duct tape to help others
Part 5: Hush those justifications in your head