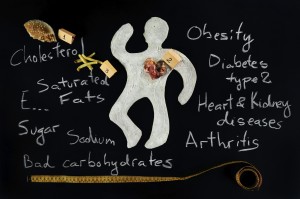 A study released this week from the Journal of the American Medical Association caused me to sit up straightand head to my computer.
The report finds that heavy teens often gain a lot more weight in their 20's. Half of obese adolescent girls and a third of obese teen boys become morbidly obese (80 to 100 pounds overweight) by their early 30's. That's awful! At a time when young people ought to be starting careers, new relationships, families and enjoying a connected community of friends, these young people are haunted by and challenged with diminished health and wellbeing. Adults that carry extra weight — not even morbid obesity — are bothered by and striving to lose that extra weight. If you have any doubt about that, just look at the thriving diet industry.
We know that extra weight puts people at risk for type 2 diabetes, high cholesterol, sleep apnea and other life limitations.
One third of children and adolescents in the United States weigh too much. Experts worry that the majority of this generation will be overweight or obese as adults. If you're concerned about health care now, just wait. I suspect we can't even imagine how tough health care and service will become.
The truth is, the first opportunity for learning to eat smart lies with parents. We are the ones buying food, making or not making meals, and going through drive thru restaurants … or not. Kids are watching their parents far more than listening to them. (Hasn't that always been the case.)
Keith Ayoob, a registered dietitian who works with overweight children and their families at Albert Einstein College of Medicine in New York said, he "never sees children who have better eating habits than their parents." Compelling, don't you think?
We get to set the tone and teach our kids what it means to fuel our bodies. We get to set an example regarding eating fruits, vegetables, drinking water, enjoying but not indulging in sweets and fried foods. Making time for eating together is hard, yet worth the effort. Yes, my kids embarrassed me each time they went to friends' homes and dove into their dessert cabinets claiming I tortured them by not supplying them at home. (I believe they exaggerated; we did have treats albeit not as much as they would have enjoyed.) I knew they were getting the "fun" food when they were out. And today, they differentiate and choose wisely themselves. We get to set the tone for healthy, vibrant eating habits for our families. It's my grandkids I'll get to spoil because those "non-fuel foods" will be a treat, not a routine.
What can you do today to better teach your children how to eat to fuel and energize their bodies, not lay the foundation for obesity? You have the privilege and opportunity to help set the trajectory for their lives beginning today.