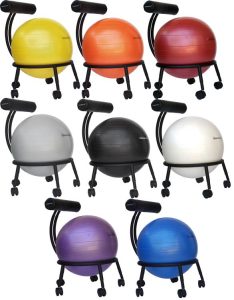 When you find a tool, resource, book, website or other "great goodie", you can't keep to yourself — at least I can't. So I'm compelled to share with you a practical, muscle-building, posture-straightening, fun piece of equipment. It's my new office chair.
When I had a home office, I had a hydraulic desk (that I loved) that let me stand or sit when working. Now I'm in a more corporate office and my hydraulic desk just didn't match the décor, so I left it at home. I've been missing the health and back benefits … until now.
I ordered two new "chairs" for my office manager and me, and we have been loving them ever since. I knew that the stability ball is smart for sitting with perfect posture. It also helps with deep, full breathing throughout the day, utilizes the back muscles and I think makes me look smarter and taller. (Okay, maybe just a bit smarter and taller.)
However, I didn't realize how much fun these chairs could be as well. My office manager says she's sitting and strengthening her ab muscles while hoping not to get caught bouncing on it by people walking by our front windows. And I've been somewhat surprised at how much my low back muscles have to work—in a good way.
They have different styles of chairs with various colors and prices. So do yourself a favor and order a chair. You'll have no excuse for not improving your posture, strengthening core muscles and having some fun while working.
Happy bouncing!